After the liberation of Belgium in 1944, a group of young Belgian men arrived in Northern Ireland. Among them were soldiers who had fought in Belgium in 1940 before relocating to the south of France to join the reserve. When France fell in 1940, many returned to their homeland and joined the Resistance.
The Belgian Government in exile in London had decided as early as 1942 that training of a new army was necessary. The plan was to raise a new 1st Belgian Army Corps consisting of; a General HQ unit, 2 Infantry Divisions with 3 Infantry Brigades in each.
In December 1944, a Belgian Military Mission went to London to put forward this implementation with the British War Office. A reinforced 1st (Piron) Infantry Brigade would receive training in the United Kingdom and be battle-ready on 1st May 1945. In January 1945, 2nd Infantry Brigade would begin training in Northern Ireland. At the end of March 1945, 3rd Infantry Brigade and 4th Infantry Brigade would follow to Northern Ireland. The end of May 1945 would see the arrival of 5th (Merckem) Infantry Brigade and 6th Infantry Brigade. Most Brigades formed of volunteers and conscripts who had seen action throughout the Second World War. The 6th Infantry Brigade formed from existing 1st, 2nd, and 3rd Fusilier Battalions.
As the war in Europe ended on 8th May 1945, the role of the Belgian Army became one of occupation in Germany, forming the basis of a new army. Ever keen to fight, these men who trained in Northern Ireland would become the nucleus of Belgium's post-war military. On their arrival in Ulster, signposts in French and Flemish directed the men to their camps.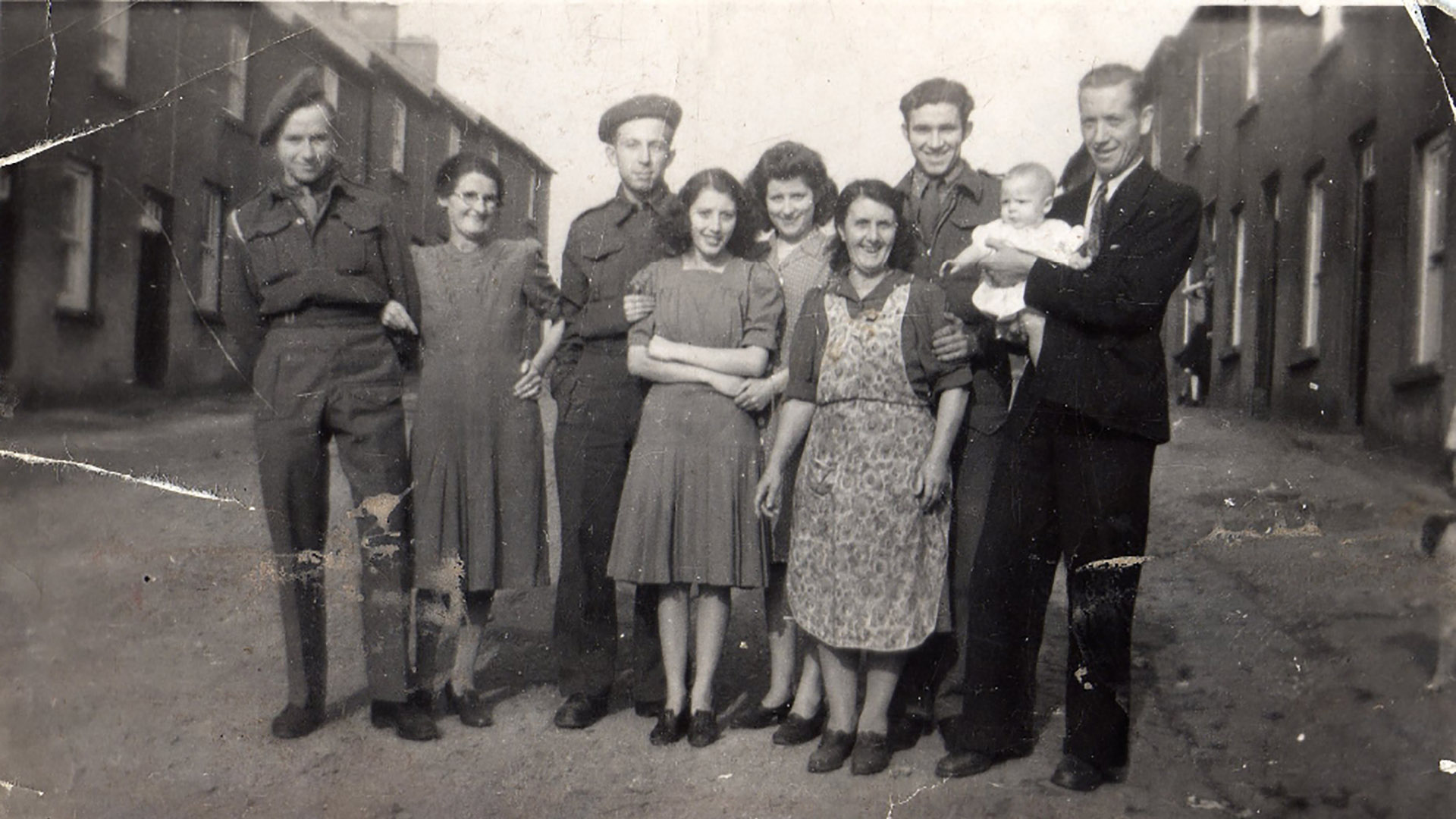 The Infantry in Ulster
On their arrival in Northern Ireland, some of the soldiers wore bedraggled, threadbare clothes with their feet wrapped in cardboard. Each man had an old army blanket and would receive a new one on their arrival in Ulster. They looked forward to the day they would pick up their uniforms and boots. After 3 weeks, the troops received British Army uniforms to replace their own clothes.
Anecdotal evidence suggests that some local shopkeepers may have taken advantage. The Belgians had little grasp of British money or the local language. However, many locals took pity on the worn and weary young Belgians. They offered traditional hospitality and in some cases, families "adopted" a Belgian soldier. Mostly, the soldiers spoke little if any English. Few people in Northern Ireland would have spoken French at the time and even fewer would understand the Flemish spoken by the soldiers. Over their stay in Northern Ireland, the troops picked up enough English to get by and local children enjoyed learning French and Flemish.
By the end of their stay in Northern Ireland, the Belgians were attending parties, dances, and social gatherings with locals. In some cases, welfare officers at the Belgian bases returned the favour by organising events at the camps.
Training for War
Many of the Belgians had been volunteer soldiers but in Ulster, they became a regular army. They underwent observation tests, maths tests, and oral interviews before training with the Royal Army Service Corps. They marched, exercised and took part in drill routines with or without weapons. Exercise took many forms including organised sports, marches in full battledress, and obstacle courses.
Those in Co. Armagh and Co. Down practised building and demolishing bridges over the River Bann and Newry Canal. By the end of the Second World War, they were proficient in many forms of weaponry including grenades, machine guns, bayonets, and bombs. Away from the battle routines, they studied the theory of war and attended lectures on nationalism and service to Belgium.
At camps across the country, the young troops also received vaccinations against diphtheria, tetanus, and typhoid. This would prepare them for a return to the battlefields. As well as training for battle, the men learned how to salute and address officers.
The Belgians worked hard but it was a big improvement in their lives in occupied Europe where they had felt starved and humiliated. All was quiet in Ulster. There were no bombings, no air raid warnings, and few restrictions on the men who enjoyed their freedom. When it came time for the Belgian troops to leave, locals wept for the young men they had come to know as friends and, in some cases, "adopted" family members.
Victory in Europe
In May 1945, after the Allies declared Victory in Europe, a contingent of Belgian dignitaries visited Northern Ireland. General Bucknall, British Military Commander for Northern Ireland, visited several Belgian camps. Some days later, the former Minister of Defence, 4 members of the House of Representatives, and 5 Belgian Senators also visited. Journalists, photographers, and interpreters accompanied the Belgian group.
After VE Day, restrictions lessened on travel in Northern Ireland. On their downtime, the troops enjoyed trips to the Giant's Causeway, Newcastle, Portrush, and Enniskillen. The summer of 1945 would be their last in Northern Ireland. By November 1945, the bulk of the Belgian Army had arrived home.
The Irish Connection
The modern Belgian Army owes much to those units who formed and trained in Northern Ireland. In fact, there were strong connections between the countries dating back to the very liberation of Belgium itself. On 3rd September 1944, it was the armoured tanks of 2nd Battalion Irish Guards who spearheaded the drive into Brussels. Tanks with names like 'St. Patrick', 'Ulster', 'Leinster', and 'Connaught' roared across the streets, met by happy Belgians. Meanwhile in Ghent, 5th Inniskilling Dragoon Guards had captured an entire infantry regiment.
To acknowledge the links between the nations, the new Belgian brigades all sported shamrocks on their crests. The first insignia featured a yellow shamrock until Colonel Louppe wrote to the Ministry of Defence in anger. He explained, the Belgians would be a laughing stock in Ulster if they wore a shamrock of yellow. The next run would have the familiar green shamrock and both Irish and Belgians would look back fondly on time spent in Northern Ireland in 1945.
Connections between the Belgian Army and Northern Ireland lasted many years beyond the Second World War. In 1988, a Commander in Chief of the Belgian Army retired. He was the same Colonel Louppe who first set up camp at Lenaderg, Co. Down in 1945.
Belgian Army in Northern Ireland